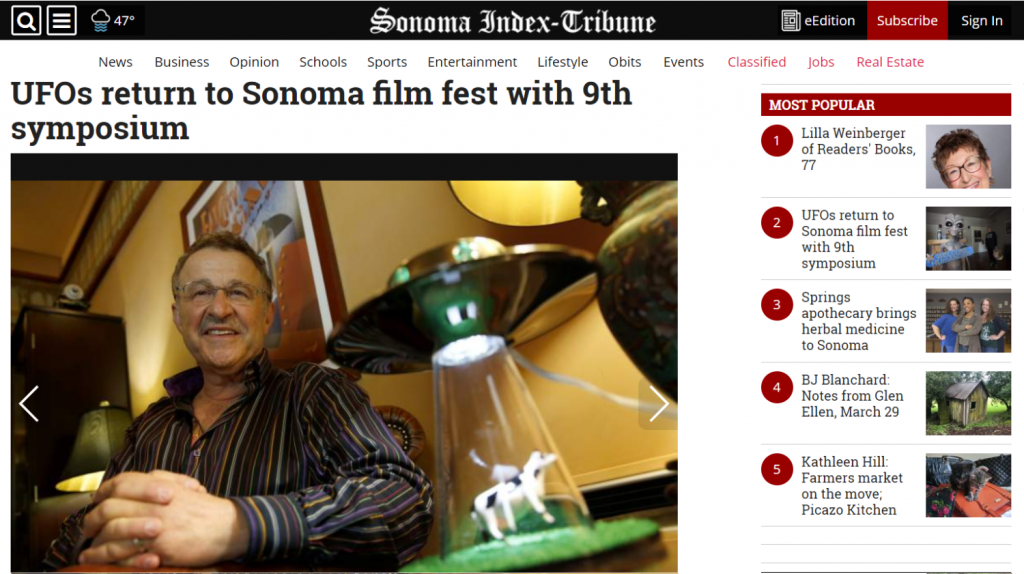 March 29, 2019
Christian Kallen
Jim Ledwith has been producing his UFO Symposium at the Sonoma Independent Film Festival for nine years. This year it's Saturday morning, March 30, at 10 a.m. in Andrews Hall.
So what makes this one different? "This year is about disclosure," he says. "Which we technically had on Dec. 17, 2017." He's speaking of the revelation – in the New York Times, no less – that the Pentagon had a secret study called the Advanced Aerospace Threat Identification Program, a "disclosure" that is documented in this year's symposium feature, "Aliens at the Pentagon."
The film is narrated by Nick Pope, a former British government investigator who was an inspiration for Fox Mulder in the series "X-Files." In classic the-truth-is-out-there style, "Aliens at the Pentagon" amasses scraps of unofficial footage mixed with mainstream media, interviews with astonished witnesses, and the exhumation of the Pentagon's AATIP, a small program that ran from 2007 until 2012.
This is a first-time local screening of "Aliens at the Pentagon," though it's available streaming online for a fee. It's followed by "The Nimitz Encounters," a briefer documentary about a 2004 encounter between Navy jets from a U.S. Navy aircraft carrier and dozens of Tic-Tac shaped objects for which no rational explanation has been put forward.
See full article HERE.